Events | Nov 16, 2016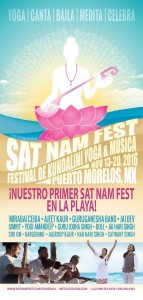 Micheal Gannon Master Class at the Sat Nam Festival in Puerto Morelo, Mexico.
After 15-years of practicing Classical Ashtanga Vinyasa Yoga, as blessed by his late Guru, Sri. K. Pattabhi Jois, Gannon has experienced the natural process of where tradition often leads other long-term yoga teachers. And that is evolution and freedom. The freedom to adapt what our own experience on the mat has lead us to discover and create for ourself. Challenge yourself to a powerful, vinyasa based practice that is not for the narrow minded and not for the weak. Always with the stimulating, rocking playlist that has becomes Gannon's driver of a high-energy practice.
Wensday November 16 , 2016 from 14:30 to 16:30, Puerto Morelos