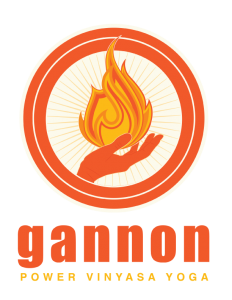 GPVY 100 Power Vinyasa Yoga Certification

"After so many years of practicing and teaching traditional Ashtanga Vinyasa Yoga around the planet…. THEN starting to incorporate the organically evolved Gannon Stylized extensions ….THEN realizing so many other teachers (before and after me) have done the same thing…. I have become fascination with this process of Yoga Evolution." – Michael Gannon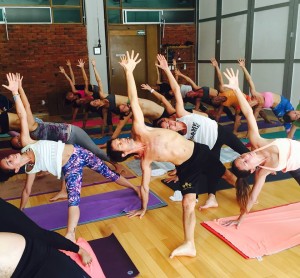 It is based on this fascination that the GPVY 100 Teacher Trainings are being launched! After 10 years of teaching the GAVY 200 Teacher Apprenticeship Foundation Course, there has developed a desire to go beyond by offering hungry teachers and students a structured format/system to increase their accreditation to the 500 hours level. One that is recognized worldwide by Yoga Alliance as well as The Yoga Alliance UK.
Yoga has grown SO much in the past 10 years! And there doesn't seem to be any stop to it in the near future. Previously, curious practitioners needed to travel to the big cities to grow their yoga . Not anymore! We now see yoga studios, international teacher workshops and retreats popping up in all the smaller/regional cities and communities around the world.
With this evolution there is an even greater responsibility for yoga teachers to further develop their skills to teach a broader range of students. The GPVY 100 Teacher Trainings connects the classic foundation of Ashtanga Vinyasa Yoga to some of the most popular evolved yoga systems of today like Power Yoga, Tantra Yoga, Jivamukti, Vinyasa Flow, Budokon,Yogic Arts and more.
Upon successful completion of the GPVY 100 Teacher Trainings, trainees are qualified for the GAVY 500 as well as the Yoga Alliance RYT-500 recognition.
Who can join the GPVY 100 Power Vinyasa Yoga Teacher Trainings ?
This intensive 100-hours trainings are open to:
– Serious students of yoga
– Graduates of a RYT-200 certification (GAVY 200 or other schools)
– Graduates already registered at the RYT-500 that want/need something better
GPVY 100 Power Vinyasa Yoga  Teacher Training s include:
– INTENSE daily schedule of Meditation, Pranayama, Asana, Mantra, Philosophy, Teaching Techniques, writing, lectures, discussions, reflection, feedback, coaching, and More!
– Yoga anatomy and movement workshop
– Tapas Temezcal Sweat Lodge Ceremony
– GAVY Homes Study Course with materials provided by Gannon and guest teachers
– Apply toward your GAVY 500 Certification and your Yoga Alliances RYT-500 registration.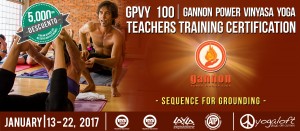 Upcoming date for GPVY 100 Teacher Trainings Grounding Sequence is:
January 13-22, 2017

​Upcoming date for GPVY 100 Teacher Trainings Flying Sequence :
April 14-23, 2017
Where
Yogaloft Playa del Carmen
Calle 10 (between Ave 10 & Ave 15)
Playa del Carmen 
Daily Training Schedule  (Always subject to change)
Monday – Sunday
7-8am  Pranayama & Meditation
8-8:30am  Break
8:30-9:45am GPVY Asana Practice
10-11:30am Brunch
11:30-2:30pm Lecture / Discussion / Practicum / Teaching Techniques / Assisting
2:30-6pm   Lunch / Free Time / Self Study
6pm-7:15pm GPVY Asana Practice 
3:30-5:30   Yoga Anatomy (3 days only)
7:30pm-8:30pm Meditation (Thursday only) 
One evening  Tapas Temazcal Ceremony
Pre-Study
– GPVY Homes Study materials provided by Gannon. To be studied, learned and practiced for 30-days before training intensive begins. 
Tuition
US$1,500 Each GPVY 100 Teacher Training is 10-days. In MXN tuition is currently 
29,700 MXN.
Lodging
The general cost for being in Playa del Carmen, can be as cheap or as expensive as you like. There are all types of accommodations, from hostel to extra luxury resorts. We have a couple of hotels very close to Yogaloft that we recommend, where you can get a discount http://www.yogaloftplaya.com/index.php/yogaloft-recommends/hotels .
You can find more details about GPVY Teacher Trainings at this link:
http://michaelgannonyogau.com/training/gpvy-100-2
And make your actual booking at this link:
http://michaelgannonyoga.com/news/gannon-power-vinyasa-teacher-training
Please fill the Application Form for these Teacher Trainings.
Please let us know if you have any questions.