Events | Aug 10, 2014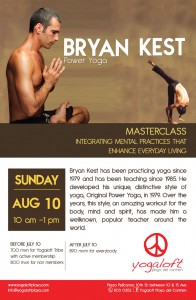 If you don't know who Bryan Kest is you are probably VERY new to yoga!
This man is the founder of Power Yoga and has touched thousands of
peoples lives teaching yoga since 1985.
"My primary objective", says Kest,"besides turning more and more people
on to a healthier, more peaceful lifestyle that continually challenges them
to grow, is to teach a system of exercise that fully integrates
the body, mind, and spirit. The new trend towards yoga is not surprising,
given that the body is limited and the mind is limitless. The combination
of body and mind creates an incredibly broad range of fulfillment,
including top physical condition and a calm, peaceful, clear mind."
Location:
Yogaloft Playa del Carmen
Calle 10 (between Ave 10 & Ave 15)
Playa del Carmen
(984) 803-0352
www.yogaloftplaya.com
pa@michaelgannonyoga.com
Save your space now! This class will sell out for sure!