Events | Jan 1, 1970
Michael Gannon during yoga teacher training at Yogaloft Playa del Carmen, talks about taking care of yourself on the teaching floor: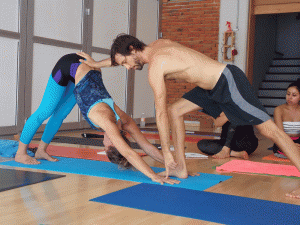 "As a yoga teacher, dedicated to helping students in the practice, we should always look out for the student first! Right? Maybe not…
I like to address this question with an analogy of the emergency procedures used on a flight when the oxygen masks pop from the ceiling over your seat. If you are sitting beside a child, always put the mask on yourself first! Then help the child beside you. At first thought, does this make sense, or seem selfish? The idea is, if you don't take care of yourself first, you will be of no use to anyone else. 
So, it's the same in the relationship between yoga teacher & yoga students . Especially in the Ashtanga Vinyasa Yoga practice, which is traditionally a very hands on way of teaching "
The following video blog was shot live during one of Michael Gannon's GAVY 200 Yoga Teacher Training courses at Yogaloft Playa del Carmen, in Mexico. 
Here we learn one of many examples of how we can take care of the teacher first.  Then, we can take care of the student, even better.
Do you feel ready to learn these teaching techniques? Would you like to learn first hand, live and in person, everyday with Michael Gannon for a month? Final 8 spaces are still available for the next GAVY 200 (Gannon Ashtanga Vinyasa Yoga ) Teacher Training in Playa del Carmen, Mexico, August 19- September 11, 2016.
"Change your body…change your mind…change peoples lives! "
  – Michael Gannon
Click here for details and to submit your application now!