Product Description
Yoga Dealer 108-Malas by Michael Gannon
Limited Edition
In 2011, Gannon designed and launched a high-end collection of  Yoga Dealer 108-Malas,made of pure sterling silver  (92.5%) and semi precious gem stones.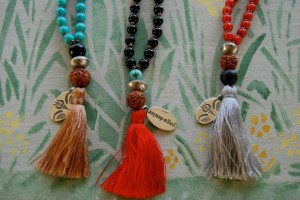 Mini YD Silver Pendant:
Pure stirling silver (92.5%)
Yoga Dealer Eyes Icon on one side
Yoga Dealer text on other side
Semi-Precious Gemstones:
High quality, energetically charged semi-precious gemstones. Choose from  Turquoise, Green Jade, Red Coral or Brown Tiger Eye.
Latest designs include Aquamarine, Amethyst and Cornelian!
The Yoga Dealer 108-Malas creation story:
Michael Gannon's first ever Rudraksha Mala was given to him by one of his Spiritual Guides in India in 2002.  For 8-years, that Mala traveled with Gannon around the world as he practiced and taught Yoga.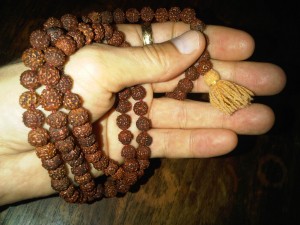 It was always a special part of his Meditation and Pranayama time.  In 2009, when it finally fell apart from natural causes of extensive use, he had a choice to make. He did not want to repair it, as it seemed this Mala had served its purpose during an important and transformational time in his path. At the same time, he could not bring himself to offer it back to the Earth, do to the special energy he had poured into it. So, he decided to…
…(read more)…
So, he decided to put each of the 108 Rudraksha seed Malas into a box on his altar until he new what to do with them.
Exactly one year later, in 2010, when he decided to design a line of special Malas under the Yoga Dealer brand, Gannon knew it was time to open the box on his altar.  As with the recreation energy of any tree's seeds, these 108 Rudraksha seeds would provide the creation energy for his new designs.
So it is that each Yoga Dealer Mala has a single Rudraksha seed at the bottom.  And since there are only 108 of these seeds from Gannon's personal Mala, there are only 108 pieces in this limited edition collection! No More, No Less!
All Yoga Dealer Malas are hand made in Mexico.
All pendants and tags are High Quality Sterling Silver (92.5%).
All stones are high-quality, energetically charged, semi precious gems.